ROAD SAFETY
In 2012, JNGI embarked on a road safety programme encompassing three elements – Crash Hot Spot Signs, "Arrive Alive" campaign and the Online Fatal Crash Map, which is geared towards creating a positive impact through educating and motivating the public to take more personal responsibility for their behavior on the road.
Crash Hot Spot Signs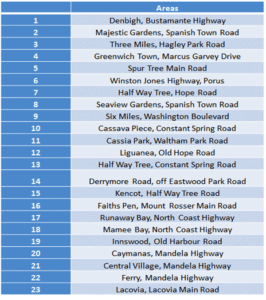 JNGI worked with the Mona GeoInformatics Institute to identify the priority crashes and/or fatalities areas across Jamaica through the use of data from the JCF's Traffic Division.  There are currently twenty-three outdoor spots with a breakdown of 50% in Kingston & St. Andrew and 50% out of town. Over the years, there have been a decrease in the number of fatalities in the areas were the signs were erected.
As at September 7, the Ministry of Transport and Mining reported that two hundred and thirty-four persons have been killed in two hundred and sixteen fatal crashes since the start of 2017.  There has been a two per cent (2%) decrease in fatal crashes and a thirteen per cent (13%) decrease in fatalities when compared with similar period in 2016.  Fatalities for 2017 are projected to decrease by ten per cent (10%) when compared with 2016.